American Scholar Group (ASG) schools, tutoring centers, and housing facilities are located in small communities throughout Western Pennsylvania and Eastern Ohio. These locations are situated in the American heartland and are appropriate for international students who want an immersive American living experience.
ASG Centers are located in:
Greenville, Pennsylvania
Canton, Ohio
Struthers, Ohio
ASG students enjoy peaceful, safe and friendly environments conducive to learning and personal development, away from the hustle and bustle of city life and. However, major cites are only a short drive away. Pittsburgh and Cleveland are 1.5 hours from us. Tourist destinations like Niagara Falls, Washington, D.C., New York City, the Great Lakes, Toronto, Canada, are close enough for weekend excursions.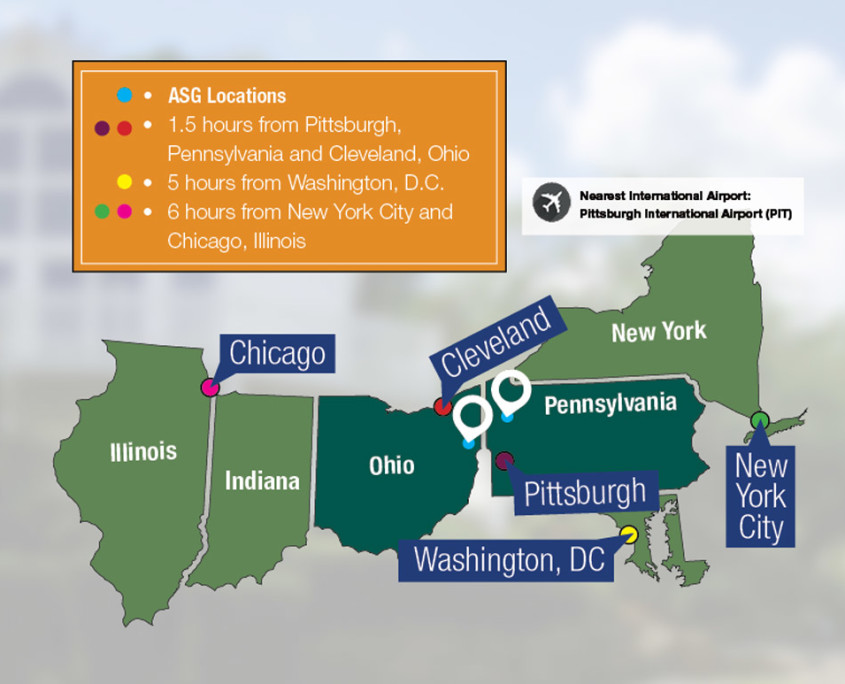 American Scholar is located in  beautiful northern Mercer County, Pennsylvania in the small community of Greenville. A scenic community aptly named for its tree-lined streets, grass-laid parks, and surrounding lush hillsides, Greenville was founded in 1796 by three Germans, David Klingensmith, Joseph Keck, and Jacob Loutzenhiser, and an Irishman, Andrew Christy.
In 1826, the Erie Canal was finished allowing people to travel by boat. In 1844, another canal was completed that tied the Port of Erie to the Ohio River providing a new way to travel and to transport goods. Eventually, the railroads began to move in. Before the canal was drained, the towing paths were being converted to railroad track beds. Three important routes, commenced in the 1860s, were built through Greenville. Two of these railroads connected raw materials shipping via Lake Erie with mines and heavy industrial production in western Pennsylvania and eastern Ohio, the third became the main track line between New York and Chicago. Two of these freight lines remain in daily use today.

The ASG corporate office is located at:
10 N. Penn Ave, Greenville, PA USA 16125
Nearest International Airport: Pittsburgh International Airport (PIT)
Recommended connecting airports:
– Detroit Metropolitan Airport (DTW)
– Atlanta International Airport (ATL)
We advise all students to allow a 3 hour window between connecting flights in case of possible delays.
Recommended airlines:
– Delta Airlines
– United Airlines
ASG transportation services staff will greet students at PIT and ferry them to our facilities.
In the event a student misses a flight, please contact us at +1 724-885-1136